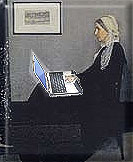 Click on Grammar's laptop (at the right) to get a form that will allow you to submit a question about English usage or grammar. It's a good idea to check the FAQ File first to see if your question has already been answered. Also, look in the Index and consult the Search Engine to make sure the answer is not already part of the Guide. (The search engine will look through the 600 Grammarlogs as well as the text of the Guide.) Responses are sometimes sent through e-mail, or you will be notified that answers have been posted in the Grammar Logs (listed below).
Once filled, each volume contains 100 questions, ten "logs" of ten questions each. We suggest you look through these volumes, which date back to March of 1997, to see if your question has been asked and answered before; in the process, you will surely find many interesting questions from other users around the world. So far, we have had visitors from from all 7 continents and 223 countries and territories — click HERE for a list — all 50 states of the U.S.A., 7 states of Australia, and 10 provinces of Canada..
Current Grammar Log,
Volume #61:
April 14, 2004, to

From the archives listed below, select the Grammarlog you want to review. The grammarlogs are arranged in chronological order, with the most recent being at the top of this list.
FastCounter by bCentral